Product Information.
Our multi-seal has been supplied with an undrilled seal allowing you to custom-drill holes to match your cable requirements. Designed for multiple cables up to Ø15mm (0.59"), DS-MULTI-P-BLK is perfect for solar panels, lights, and other rooftop electronics.
Constructed from high-impact plastic, DS-MULTI-P-BLK is UV- stable and hard-wearing providing a 100% watertight seal no matter the weather.
IP68 Waterproof.
Designed to fit multiple cables up to 15mm (0.59")
UV resistant.
Supplied with undrilled bungs and made from marine grade black high-impact plastic.
No messy sealant on bung.
Easy fit cable routing that cuts down your installation time.
A guaranteed 100% watertight seal.
Designed for a range of cable diameters making it ideal for almost every installation.
Perfect for solar panels, light bars, lights, and other rooftop electronics.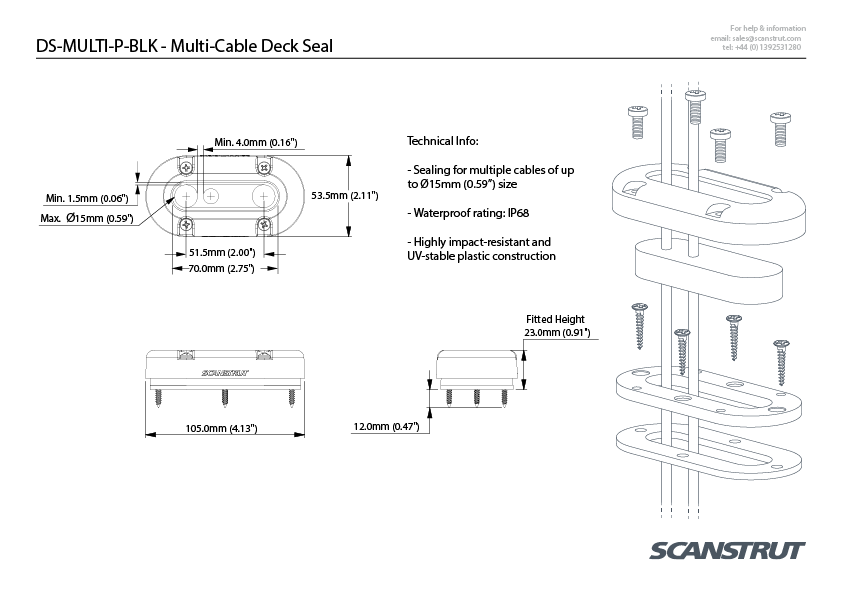 Our Testing Ethos
Our testing standard at Scanstrut is encapsulated by the acronym SCA, which stands for Safe, Certified, and Approved. With over 35 years of experience and expertise in designing products for outdoor use, we design our products to be able to thrive in the harshest of outdoor environments.
Before any product is released, it must pass through our rigorous testing program which involves assessments in electrical, mechanical, U.V., corrosion, thermal, and waterproof categories. To ensure the highest level of accuracy, testing is conducted both internally and by independent ISO accredited test houses.
Our commitment to quality has earned us the approval of renowned names such as Mercury Marine, Grady White Boats, Boston Whaler, Winnebago, Airstream and many more. To learn more about our testing program and certifications, please feel free to reach out to us.