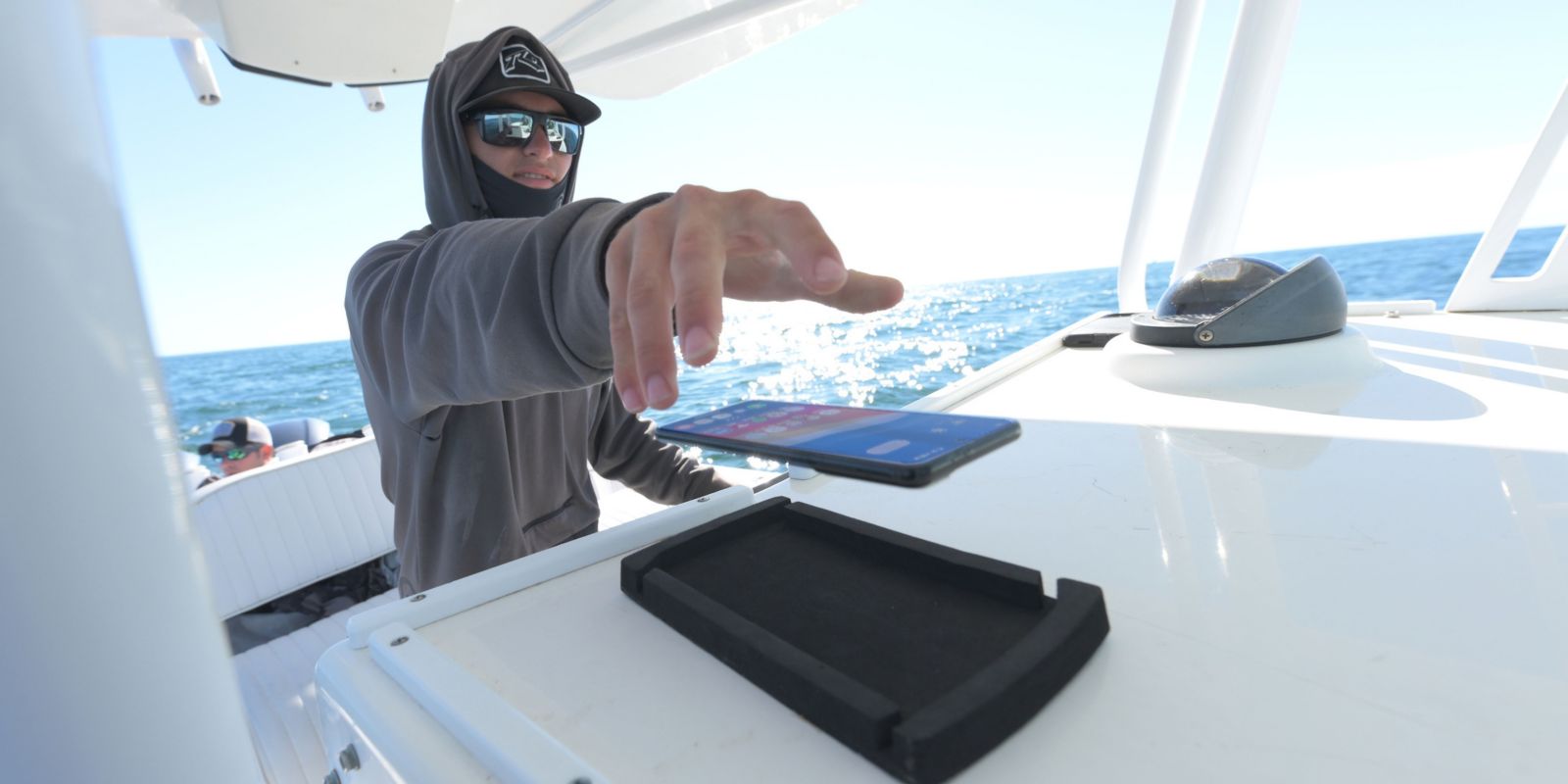 Product Information.
Catch 10W is one of the most convenient ways to store and wirelessly charge your phone onboard indoors or out! Designed to install onto any flat surface, perfect for use on top of boat consoles.
Simply place your phone onto the center of the charging mat and instantly start wirelessly charging.
The cleverly designed edging bumpers stops your phone from sliding out, and lets the mat Catch your phone from any angle!
Constructed from our Closed Cell EVA foam, Catch offers great shock absorption and anti-vibration for your phone while being extremely hard-wearing, waterproof, and self-draining, stopping bacteria and mildew from building up.
Catch is a part of our IPX6 waterproof 12/24V Qi certified waterproof wireless charging range that enables wireless charging for the outdoor environment without phone charging cables.
Designed from the ground up, this is the world's first waterproof wireless charge system created specifically for use onboard, with the unique technology is housed in an IPX6, fully encapsulated and sealed unit.


Our new upgraded 10W chargers are up to 60% faster and have been designed for the latest generation of power-hungry devices and apps.
Our improvements don't just stop there, now featuring easier phone alignment with a larger charging area, and electrical componentry that has been enhanced to significantly improve your phone's charge times, even in the harshest outdoor environments.
With the same great look, ROKK Wireless is tried and tested in all corners of the globe in all weathers, and conditions.
Beautiful Design
Small and compact, our charging mat design suits any boat type, unlocking brand-new charging possibilities onboard.

Simple Install
One easy cut (65mm 2.5" hole saw) into your chosen mounting location, then simply peel off the 3M self-adhesive backing paper and firmly press down. Connect to a 12/24V power source and you're ready to Catch. Charge. Connect.
Wash Down
Worried about getting water inside? No problem! Our charging mat is IPX6 waterproof and will not let water through your mounting surface.

Dual Functionally
Featuring an intelligent Foreign Object Detection, Catch is perfect for storing your other personal items such as wallets and keys as the charger will only begin to charge when a phone is placed on the mat – nothing else!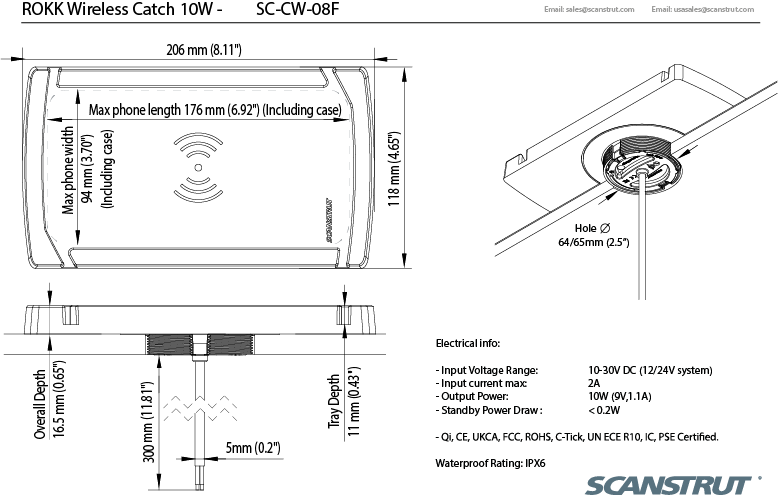 Our Testing Ethos
Our testing standard at Scanstrut is encapsulated by the acronym SCA, which stands for Safe, Certified, and Approved. With over 35 years of experience and expertise in designing products for outdoor use, we design our products to be able to thrive in the harshest of outdoor environments.
Before any product is released, it must pass through our rigorous testing program which involves assessments in electrical, mechanical, U.V., corrosion, thermal, and waterproof categories. To ensure the highest level of accuracy, testing is conducted both internally and by independent ISO accredited test houses.
Our commitment to quality has earned us the approval of renowned names such as Mercury Marine, Grady White Boats, Boston Whaler, Winnebago, Airstream and many more. To learn more about our testing program and certifications, please feel free to reach out to us.