Product Information.

Marine Grade 316 Stainless Steel
Creates an elegant finish and prevents corrosion caused from the ongoing exposure to seawater.

Aerial Bar Rotation
The aerial bar on each mounting bracket can be rotated during installation to determine the ideal position for each antenna.

Watertight 'No-Drill' Clamp System
Adjustable head ensures aerials are always vertical. Internal cable routing to ensure a neat appearance once installed.

Mount on a variety of surfaces
Perfect for mounting onto a variety of surfaces: guard rails or stanchions, 'A' frames and cabin roofs.

Do you need higher elevation for your antennas? If so, why not try the T-Pole which allows for mounting on any surface, sloping or flat.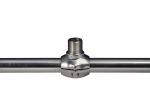 Rail mount for single GPS / VHF antenna

Marine-grade 316 Stainless Steel
Internal cable routing
See Product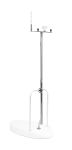 GPS/VHF mount for 4 antennas.
1.5m (4.9ft) tall pole – height can be shortened.
Cables routed internally in the pole.
See Product