Product Information.
The perfect solution for those wishing to attach a single antenna to a pushpit rail.
Will fit to rails of 25mm (1") in diameter and comes with a watertight seal for additional protection against exposure to the sea.
Manufactured using stainless steel to ensure durability and an attractive finish.
Features Internal cable routing to ensure a neat installation.
Do you need to mount multiple antennas? If yes, you should check out the T-Bar and T-Pole.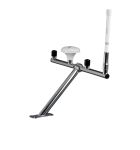 GPS/ VHF mount for 4 antennas

Marine-grade 316 stainless steel
Mount on a variety of surfaces
See Product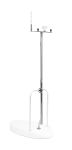 GPS/VHF mount for 4 antennas.
1.5m (4.9ft) tall pole – height can be shortened.
Cables routed internally in the pole.
See Product