SC-CW-08E
Catch. Charge. Connect.
ROKK Wireless - Catch safely holds & wirelessly charges your phone at the same time. Now you can keep your phone in a safe place onboard, in sight, charged and ready to go!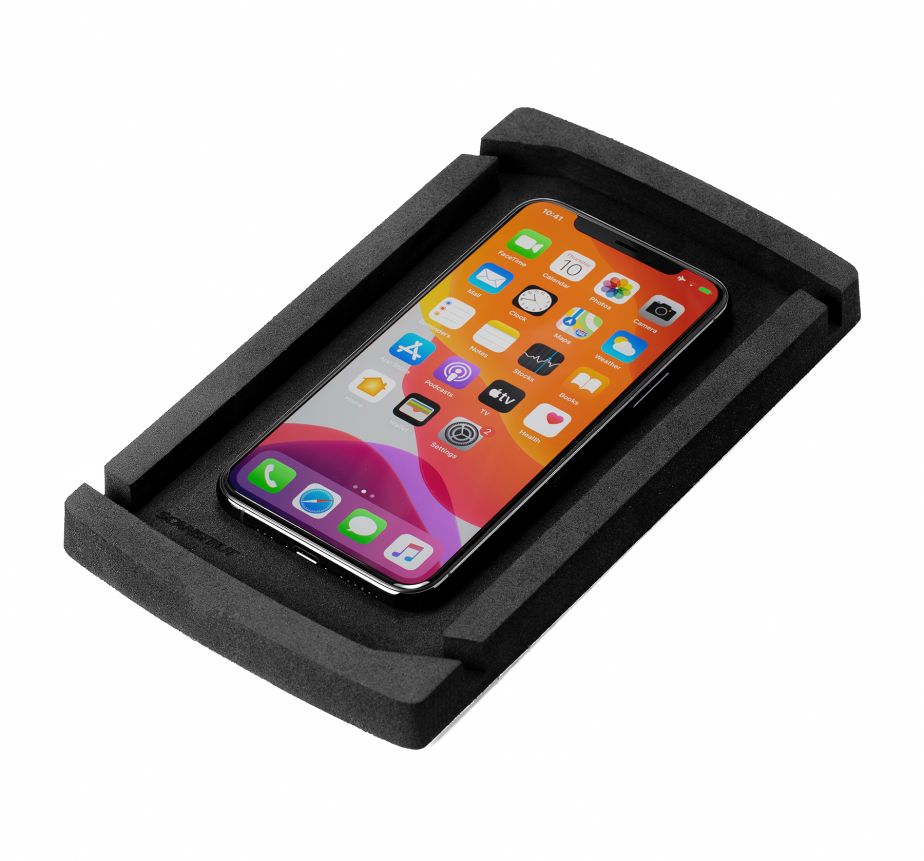 Product Information.
Catch is one of the most convenient ways to store and wirelessly charge your phone onboard indoors or out! Designed to install onto any flat surface, perfect for use on top of boat consoles.
Simply place your phone onto the center of the charging mat and instantly start wirelessly charging.
The cleverly designed edging bumpers stops your phone from sliding out, and lets the mat Catch your phone from any angle!
Constructed from our Closed Cell EVA foam, Catch offers great shock absorption and anti-vibration for your phone while being extremely hard-wearing, waterproof, and self-draining, stopping bacteria and mildew from building up.
Catch is a part of our IPX6 waterproof 12/24V Qi certified waterproof wireless charging range that enables wireless charging for the outdoor environment without phone charging cables.
Designed from the ground up, this is the world's first waterproof wireless charge system created specifically for use onboard, with the unique technology is housed in an IPX6, fully encapsulated and sealed unit.


Beautiful Design
Small and compact, our charging mat design suits any boat type, unlocking brand-new charging possibilities onboard.

Simple Install
One easy cut (65mm 2.5" hole saw) into your chosen mounting location, then simply peel off the 3M self-adhesive backing paper and firmly press down. Connect to a 12/24V power source and you're ready to Catch. Charge. Connect.
Wash Down
Worried about getting water inside? No problem! Our charging mat is IPX6 waterproof and will not let water through your mounting surface.

Dual Functionally
Featuring an intelligent Foreign Object Detection, Catch is perfect for storing your other personal items such as wallets and keys as the charger will only begin to charge when a phone is placed on the mat – nothing else!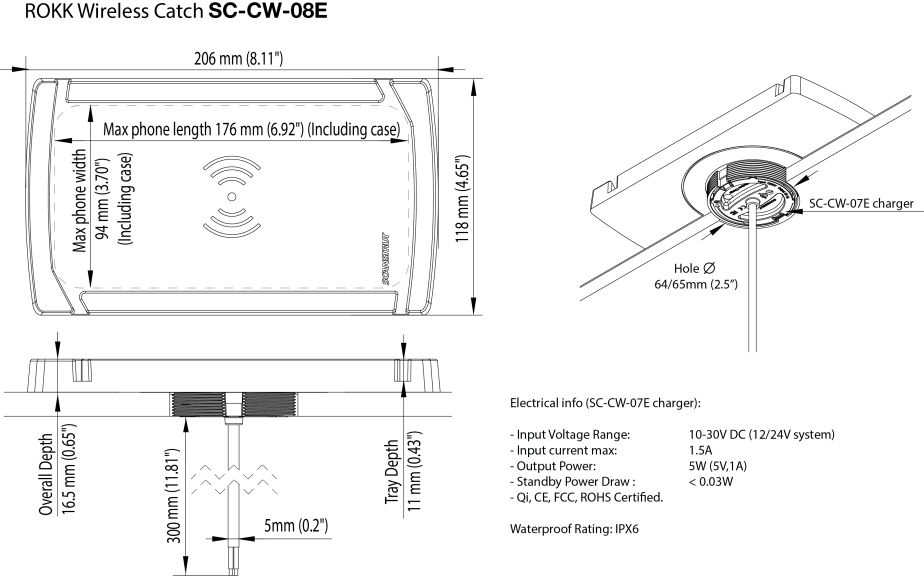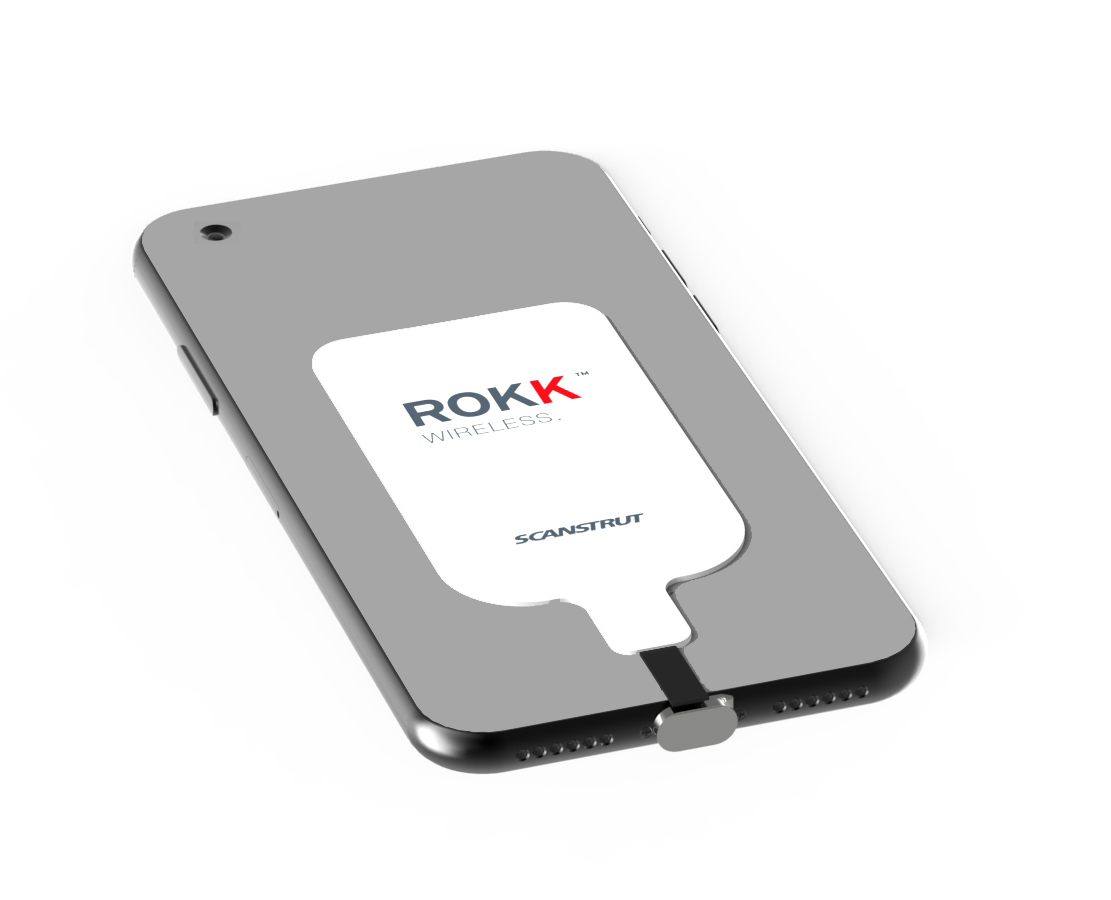 Fits in between case and phone

Designed to work with the ROKK Wireless range
See Product
Frequently Asked Questions
Is Wireless Charging safe when the charger is wet?
Yes, the charge passing through the water into your phone is not dangerous to you or your phone.
What is Qi™ charging?
Qi™ is a wireless technology that uses inductive charging. The ROKK wireless range has been engineered to be Qi compatible. Qi has been adopted by Apple, Samsung and all other major phone brands.
Why is it not fast charging?
10W fast chargers do not charge the phone twice as quick as 5W, overall they are less efficient. The 10W charger will generate more heat, that combined with the outdoor environment, it's likely to trigger your phones thermal cut out safety feature. We took the decision to use 5W technology that may deliver slightly slower charge, but allows your phone to continue to be used and receive charge outdoors.


Can it be installed using mains power?
The ROKK Wireless range is designed for 12/24V electrical systems, but we can supply transformers that enable them to be fitted to a mains supply. Because each country has its own Power specification please contact technical@scanstrut.com for more information.